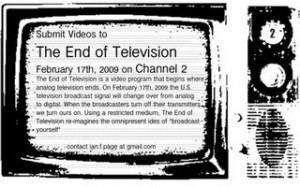 I've discussed the idea of reclaiming the analog TV spectrum when the digital changeover happens in February, and talked to Free Radio Berkeley's Stephen Dunifer about his unlicensed TV transmitter kits. Now it looks like someone is ready to put the idea into action with The End of Television project.
The project is accepting video submissions on miniDV and VHS of programs that will air on VHF channel 2 in Pittsburgh, PA on the day of analog TV turnoff, Feb. 17, 2009.
Of course there's a small element of risk in pre-announcing the broadcast, but the flip-side is that it's difficult to pull of a collaborative art project without some degree of publicity. I hope that the folks behind the project don't intend to broadcast from the address they've listed for sending the videos. Yet, if it's just a one-day broadcast the risks are pretty slim, especially since I'm guessing the FCC will have it's hands pretty full that day depending on how smoothly the changeover goes. I wonder how many phone calls field offices will be taking from puzzled viewers whose analog sets all of a sudden quit working (except for channel 2).
It would be great if TV microbroadcasters across the country would take the abandoned analog airwaves on Feb. 17 as a coordinated act of resistance against planned obsolescence and the accompanying handover of free but enormously lucrative digital spectrum to the nation's major broadcasters (who then tried to lobby to keep their analog channelspace, too).
I've already exchanged emails with Ian, one of the principals behind the project, and plan to do an email interview for the blog, followed up with a phone interview for the radioshow closer to Feb. 17.