Independent media comes in all forms, next to 'zines, podcasts and blogs there are trombones, drums and batons. In parades, clubs and gatherings of all types across the US, and across the world a fresh wave of marching bands are bringing musical chaos to the streets.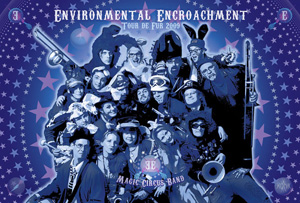 Insurgent marching bands from around the globe are soon gathering in Boston for the Honk! Festival. One of those bands will be Chicago-based Environmental Encroachment. But before they head to Beantown EE is making a stop into the WNUR studios for an appearance on the mediageek radioshow.
As a Magic Circus Band, EE uses circus acrobatics, live music and costumes to create unique entertainment environments. At the same time they bring incredible marching band interpretations of classic and modern rock that you'll never hear on a high school football field.
It's going to be a fun and unique episode of the radioshow. You can hear it live this Thursday, Oct. 1 at 9 PM CT on WNUR 89.3 FM in Chicago and online at www.wnur.org. Afterward listen to the podcast at the mediageek radioshow website.